AN EXCEPTIONAL IVOIRE MANOSQUE AUCTION: LINE VAUTRIN - HENRI MATISSE - HENRI LAURENS
Auction on Saturday June 26, 2021 at 2 p.m.
Discover the
"Selected Works"
by the
IVOIRE MANOSQUE
auction house for its exceptional public auction on
Saturday June 26, 2021 at 2:00 pm
with a
historical drawing by Henri Matisse
from 1938, a
mirror by Line Vautrin
and a splendid
bronze sculpture by Henri Laurens
.
All the essential information about the sale : click here.
Live sale, list and photos available on Interencheres : click here.
Rolled over a wardrobe where it had slept for years, a historic drawing by Henri Matisse from 1938, was rediscovered by Jennifer Primpied-Rolland of IVOIRE MANOSQUE and will be auctioned on Saturday June 26, 2021 at 2 p.m. by Ivoire Manosque.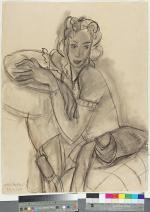 Henri MATISSE
60. Portrait d'Hélène Mercier, née Princesse Galitzine, assise, 1938
Charcoal and stump drawing, signed and dated 22/10/38 lower left, on the back, indicated
PH Vaux 2425 and 3116 - D19.
65.5 x 50.5 cm
(Cleaned, purge and absorption of halos).
In this same sale but from other collections, a mirror by Line Vautrin will be auctioned, acquired by the current owner directly from the artist in the 1960s. It is estimated at € 15,000 / 20,000.
Line VAUTRIN
55. Mirror, circa 1960/1965
Circular mirror ('Witch's mirror') with convex glass and a three-layer frame made with Vautrin's
famous "talosel" material (cellulose acetate). The first layer in black honeycomb, the second inlaid
with grey and gilded batons of pearlized glass and the third simulating driftwood. Hot-etched
signature "Line Vautrin" on the back and ROI stamp.
Diameter: 23,5 cm
(Some broken frame elements have been kept and will be made available to the buyer for restoration purposes.
These "Selected Works" by the auction house also include a splendid bronze sculpture by Henri Laurens, Le Ruban, acquired from the Galerie Louise Leiris and coming from a collection in the Luberon. When we turn around this work created in 1937, we understand the metaphorical content of the sculpture: The Ribbon represents the activity of the creative force of nature, which serves as a model for man. Hesitant, still growing, germinating shapes start to move. The work is estimated at 25,000 / 30,000 €.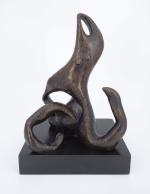 Henri LAURENS
65. Le ruban, 1937
Patinated bronze, signed with initials, numbered 0/6. Lost wax, cast by C. Valsuani Foundry.
Height: 23.5 cm